INTERNATIONAL INDUSTRIAL EXHIBITION
EXPO-RUSSIA MOLDOVA 2017
CHISINAU BUSINESS-FORUM
10-12 October 2017
Republic of Moldova, Chisinau
Palace of the Republic
Thematic sections of the exhibition:
- Energy and energy-saving technologies
- Mechanical Engineering
- Metallurgy
- Telecommunications
- Agriculture
- The oil and gas industry
- Chemical industry
- Banking
- Telecommunications and communication
- Medicine
- Education
- Transport logistics
The purpose of the exhibition:
Consolidation of political, economic, scientific, technical and cultural relations between the Russian Federation and the Republic of Moldova, an establishment and a strengthening of relations between the countries, development of joint business, trade and economic and investment relations.
Organizer:
JSC "Zarubezh-Expo"
Coorganiser from Moldova:
Chamber of commerce and industry of Moldova
With the support of:
• State Duma of the Russian Federation
• Russian Trade Representation in Moldova
• The Chamber of Commerce of the Russian Federation
• Ministry of Industry and Trade of the Russian Federation
• Embassy of the Russian Federation in the Republic of Moldova
• Russian - Moldovan Council
• Russian centre of science and culture in Chisinau
• Embassy of Moldova in Russian Federation
• Moldovan Trade Representation in Russia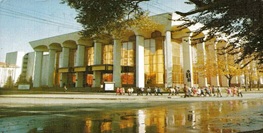 Business program is provided in frameworks "Expo-Russia Moldova 2017" and Chisinau business-forum.
We organize accommodation in hotels, transfers, dinners and excursions for participants.
The Organizing Committee:
JSC "Zarubezh Expo"
Str. Prechistenka, 10
+7 (495) 637-50-79, +7 (495) 637-36-33,
+7 (495) 637-36-66, +7 (499) 766-92-82
multi-channel number +7 (495) 721-32-36