AMMAN (JT) - His Majesty King Abdullah on Tuesday urged partnership between the private sectors in advanced countries and emerging economies, highlighting the potential Jordan has as a regional gateway.
He made the remarks at 7th German Foreign Trade Congress 2007 in Bremen, Germany, where he arrived at the start of a two-day visit.
He is expected today to meet Chancellor Angela Merkel in Berlin on bilateral ties and Middle East developments.
He told business leaders that for foreign companies that enter emerging markets, there are valuable connections, highlighting in-country markets, regional trading networks, competitive workforces, and knowledge about regional cultures and customers.
"Such businesses find significant trade and investment opportunities - especially in economies like Jordan's, which are on a path of modernisation and growth," the King said.
The Kingdom, he said, is a regional gateway to the 300 million people of the Arab world.
The Monarch added: "On a strategic level, building business in emerging markets helps create a counterbalance against market shifts and slowdowns elsewhere… That contributes to the global economic vitality and stability that we all seek."
He said that nowhere is the role of private sector trade and investment more important than in the Middle East.
But regional conflicts have delayed and destroyed the future of the peoples, and diverted resources and attention from development. He underlined "unacceptable levels of unemployment and hardship, fuelling frustration", especially among the youth. Young men and women in the Middle East, he said, expect and deserve the opportunity to build positive and thriving futures.
The King pinpointed the active role Jordan has played in efforts to drive a sound partnership involving the private sector, civil society and public officials. These parties, he said, have worked together to design innovative approaches to development.
"Within the region, we have been a strong voice, not only for peace, but for the day after peace. We have encouraged private-public partnerships that can create an economic framework of new opportunity and cross-border cooperation."
Jordan has not waited for external events to shape its future, the King added, citing deep structural reforms made at the economic, political and social levels. These efforts have paid off, he said.
"But we cannot do it alone. Our international partners play a key role in progress. And it is necessary that this partnership continues, not just with Jordan but the entire region. The European-Mediterranean Partnership recognises that bond, as well as the central role of the private sector in development. Germany, too, has given active and long-term support."
Global economy, more than ever, is able to give hope to so many people, His Majesty told the Bremen audience, stressing that the private sector is central to today's advances and hopes.
"Not just large corporations, but small- and medium-size businesses, and visionary entrepreneurs, have driven global growth. By opening new markets; by innovating and thinking ahead; by building opportunities - you have reshaped the future for billions of people."
"For the emerging economies, private sector-led growth is, quite simply, the engine of sustainable development. It expands markets, promotes the transfer of knowledge and technology, and increases opportunities. It also requires sound fiscal and monetary policies, hard decisions and long-term commitment to structural reform, the rule of law and much more."
King Abdullah underlined the vision and mission of the G-11 group, which Jordan has initiated and led.
"Ours is a Group of Eleven Lower-Middle Income Countries - from Latin America, to Eastern Europe, to the Middle East and Asia - with a proven commitment to reform and growth-based development. We've achieved results and we are poised to move ahead and stabilise at higher-income levels. I believe this success will send an important signal to all developing nations, that a commitment to reform and global cooperation is the right direction to go."
The King is expected to discuss G-11-G-8 cooperation with Merkel. Germany is the rotating G-8 president. He noted in his address to the businessmen gathering that his meeting with Chancellor Merkel is the first summit meeting of the two groups.
"One major focus will be finding mechanisms to encourage private sector-led growth. And I am confident that the G-11-G-8 partnership will grow, to the benefit of both," the King said.
He stressed that leading nations have both a strategic interest in the success of countries like G-11 members and an ability to help.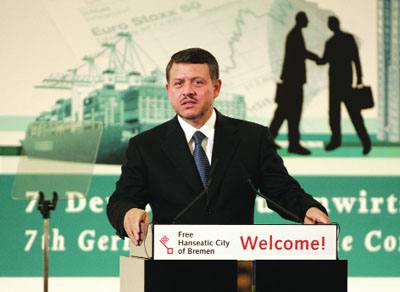 "That means getting beyond old assistance models, to put the focus where it does the most good: keeping the doors open to progress and growth.
"We've asked the G-8 industrial nations for close cooperation, on shared interests such as market access, development partnerships and investment. Germany, as the rotating G-8 president, has welcomed that dialogue."
The Monarch is also due to meet in Berlin with president and members of the foreign affairs committee at the German parliament.
In another development, His Majesty warned that the failure of the US-proposed international Mideast peace conference to achieve a political rapprochement threatens to waste the important opportunity made available to achieve the two-state solution and the subsequent peace between Arabs and Israelis.
In an interview with the German Frankfurter Allgemeine Zeitung newspaper published yesterday, King Abdullah said the Annapolis meeting is not the end of the peace process but rather marks its start, stressing the need for having a timetable for this process that "we should start in Annapolis".
His Majesty expressed hope that all parties realise their responsibilities to avoid a more difficult future for the Middle East, describing statements issued by the Israelis and the Palestinians as positive.